Designer brand of trendy jewelry, accessories and gifts from Barcelona.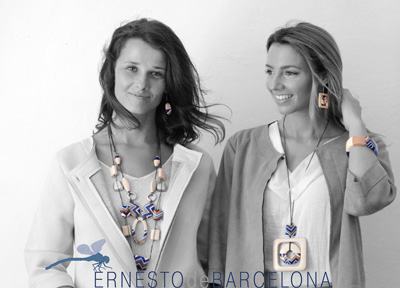 Ernesto de Barcelona
is a designer brand of unique handmade jewellery, accessories and gifts made with special attention to women demand. The main brand concept compiles maritime spirit and atmosphere, which is reflected in all the details.
Design of each product is based on a maritime theme and its variations; it embraces rich colors and uses eco materials of high quality that reveal the comprehensive essence of the brand. 
The symbol of the brand is the dragonfly, which embodies lightness, grace and above all the principal idea of the brand – the sacramental place where the sea meets the land. 
Majesty and mysticism of the oceans, mountains, rivers and forests are our spiritual guides. In our pursuit to a more beautiful world we design our collections in harmony with the Earth. We believe that the more we reuse, the less we have to take from our planet. With this mission we follow an eco-concept and use recycled aluminum and wood in the production that reveals the comprehensive essence of our brand.
Brand History
Thomas Hayere (originally French) is one of the brand founders and its designer. He has many years of experience in designing and manufacturing accessories and jewellery. His career path is a run of professional adventures in the advertising world and several design companies including the company of the King of Fashion Karl Lagerfeld.
In 1996 meeting with his future wife Camille, an entrepreneur in fashion industry, became a turning point in his life. They decided to join experience and passion to start a new designer brand of handcrafted bijouterie and accessories. Ernesto de Barcelona became their new joint beginning.
They made a decision to set up business in Barcelona because of its sunny colors and mood of this city which inspire Thomas for new collections. The Mediterranean city in the heart of Catalonia became a hometown of Ernesto de Barcelona. Its atmosphere can be seen in each detail of the brand. 
Ernesto de Barcelona is a designer brand of unique handcrafted jewelry, bags, espadrilles and souvenirs whose creativity is inspired by the mystery and infinite beauty of nature.
Ernesto Design - In between land and water